The bearing seized at 5:17 on the second shift and took the line down with it. The Plant Manager first heard about the stoppage at the 8:30 meeting next morning. By then, a new part was in place and the line running, but an entire shift's output was lost.
Manufacturing dashboards improve the response time to problems like these. By enhancing visibility into minute-by-minute operations they give management vital information while there's time to coordinate a response.
A manufacturing operations dashboard is a key component of a business intelligence system. Think of it as the sharp end, where data is turned into actionable information. It's often said that knowledge is power: business intelligence systems gather that knowledge and manufacturing dashboards give those (that need it) the power to react.
Data, Data Everywhere
Whatever type of manufacturing operation you look at — batch, continuous, process — they have two things in common: they are complicated and they are dynamic. Everything is measured, but despite investing fortunes in ERP and MES, most factory floors actually run on whiteboards and spreadsheets.
Ultimately, there is no easy way for the Plant Manager to know, minute-to-minute and hour-by-hour, how any particular line is performing. Instead, he or she gets a surprise at the morning production meeting, when it's too late to take corrective action.
As everyone knows, measurement comes before improvement. That's why many factories are awash with metrics. Yields, scrap, schedule attainment, and availability are just a few of the many measures. In an attempt at simplification, some factories whittle this down to a single KPI, often OEE. (This is despite there being a debate over the value of OEE as a KPI.)
Data for these measures comes from diverse sources. MES provides some; others depend on factory workers maintaining live counts and entering updates into databases and spreadsheets. It works, after a fashion, but there are many problems. These include:
Data collection errors
Calculation errors
Delays/lack of timeliness
Inconsistent data sources, in a plant with many lines it's easy to miss some
Poor distribution of results — they could be late or slow to come out, and key people are sometimes left off
Time expended on data collection and cleansing
What Manufacturing Plant Managers Want to Know
The Plant Manager is the Captain of an ocean-going freighter. He or she wants to know if the ship is deviating from its intended course so corrections can be applied in a timely matter.
Widely used KPIs include:
Delivery performance
Manufacturing lead time (sometimes called 'total cycle time' — how long it takes an order to progress through the factory)
OEE (valued because it pulls together data on production rates, quality, and machine availability)
Manufacturing Dashboard - Overall Equipment Effectiveness (OEE) Dashboard - Wyn Enterprise
Many of these take so long to reach the Plant Manager's desk that it's often too late to make changes. When corrective action is taken there's yet another delay before the result becomes apparent.
The result is that resources are used sub-optimally. Excess costs are incurred, and opportunities are missed. Yet with more visibility, changes could be made quickly. Workers from an idled line could be redeployed to a bottleneck operation. A raw materials shortage could be an opportunity to bring forward some planned maintenance. A sharp decline in yields may indicate that a process is experiencing problems before they become catastrophic.
A better approach is for decisionmakers to receive a constant stream of factory information. The best approach is to enhance this information with the ability to forecast and even evaluate the consequences of alternative choices.
This is the role of the BI dashboard.
The Manufacturing Operations Dashboard
A dashboard displays the information needed to exercise control. The word originated with automobiles, but today it's used more widely to describe the graphical presentation of information from diverse sources in a single place. In the case of manufacturing dashboards, that single place is a tablet, though it could also be a laptop or desktop computer.
A key element is that data is presented in a manner that's easy to visualize. That means graphically. Managers are skilled at discerning trends and patterns in tables and spreadsheets, but graphs and charts make it easier and ensure nothing gets missed.
Manufacturing dashboards are usually customized for individual users. The underlying data is available to all users of the business intelligence system, but each manager or decision-maker selects what they want to see by default. Thus, there's often a manufacturing inventory dashboard, a manufacturing operations dashboard and so on.
These dashboards are powered by the business intelligence system. This aggregates data from ERP, MES, and other systems and processes it to provide KPIs such as order intake, warranty costs, delivery schedule attainment, and (of course) cash flow. These are then presented in a format that answers the question, "How are we doing today?"
Manufacturing Dashboard - Average Yield Per Hour - Wyn Enterprise
Better Visibility
Of course, the real value in a manufacturing dashboard is not the attractive data visualizations or even the time saved in their production, but the insights it provides into what's happening out in the factory. It's these insights that bring about improvements.
Insights flow from visibility, and that's what manufacturing dashboards enable: visibility into operations.
Here are 7 ways manufacturing dashboards increase visibility into operations:
Visualization: Trends stand out when presented graphically. Pareto charts highlight the leading causes of waste or downtime. Pie charts show how capacity is being used.
Single-source: Unlike with manual data collection, whiteboards, or spreadsheets, the dashboard gets its information from the same place every time — a single source of truth.
Distributable: Dashboard information can be shared with those who need to know — direct reports, senior managers, or anyone else.
Timely: Speed of data collection, aggregation, and presentation is a hallmark of business intelligence systems and dashboards. A manufacturing inventory dashboard, for example, can highlight the consumption rate of key raw material, providing time to expedite the next delivery before depletion.
Granular: Traditional production reports are summaries. With a manufacturing operations dashboard, it's possible to drill down into the data. Shift output may have been below plan, but with the dashboard, managers can see which line, and even which machine caused the problem, and for how long.
Accurate: Data entry errors are commonplace. Bias, deliberate or unconscious, is another source of inaccuracy. Business intelligence systems serve up accurate data to the dashboards.
Consistent: Business intelligence systems collect data systematically. There's no waiting for reports, collating data or emailing around for numbers. Automation ensures a standardized process, which enables accurate comparisons and benchmarking.
Average Units Per Hour - Wyn Enterprise
Forecasting and Analytics
Manufacturing managers have long wanted the ability to evaluate alternative scenarios. Can we increase output by switching Product A to Line 4, freeing up capacity on the more automated Line 9?
A manufacturing analytics dashboard can provide such a capability. Harnessing the forecasting power of the business intelligence system, this yields insights hitherto impossible to obtain. An analytics dashboard replaces "gut feel" and "seat-of-the-pants" decision-making with scientific analysis. This is moving from improved control to decision support.
The Dashboard Development Process
Implementing or deploying dashboards is primarily an exercise in education and training. This is because, subject to the limitations of the business intelligence system, manufacturing dashboards are customizable and user-driven. In other words, it's up to each user what they see on their device.
Users typically need education and training to understand what their dashboard can do for them. As they gain familiarity and they start seeing the value they will have requests for more information and capabilities.
In some organizations it may be appropriate to pre-configure the dashboard, perhaps to protect commercially sensitive information.
Consideration should also be given to security. Vendors of business intelligence systems and dashboards will be able to explain how their system guards against unauthorized access or data manipulation.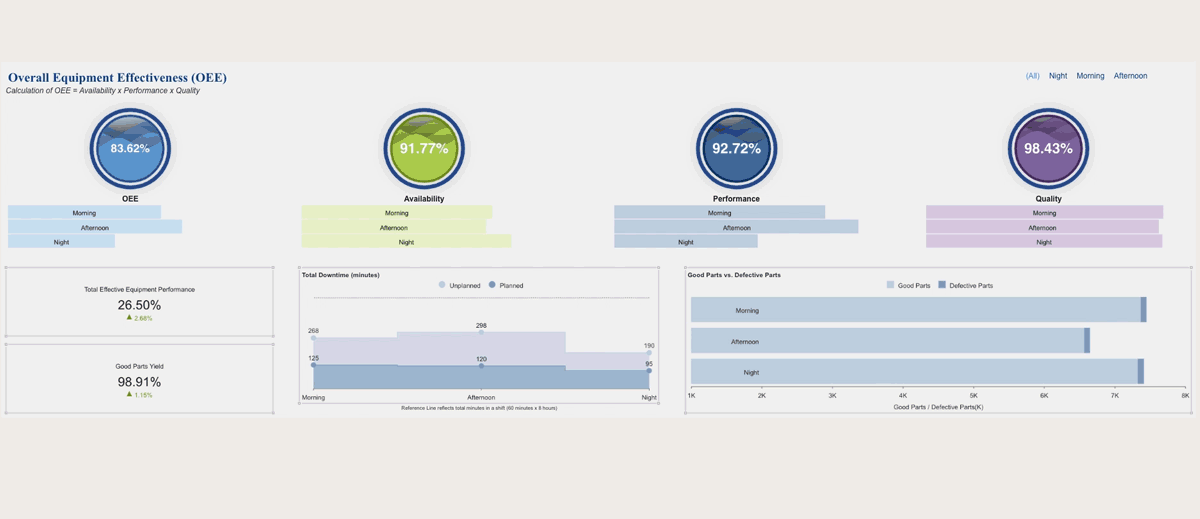 A Manufacturing Dashboard Using Custom Visualizations - Overall Equipment Effectiveness (OEE) Dashboard - Wyn Enterprise
Better Visibility Improves Performance
Manufacturing operations are highly dynamic. Maximizing resource utilization, output and target attainment demands that Managers know what's happening, everywhere, all the time.
The old systems can't do this. They're too slow, and often too ad-hoc, to deliver the visibility needed. It takes too long to recognize a problem, and then a bigger course-correction is needed. Like a ship zig-zagging across the ocean, it's wasteful and inefficient.
The solution is to deploy a business intelligence system that aggregates factory data and dashboards that turn it into actionable information. Then, the next time an unplanned shutdown stops production, management can react immediately. Better resource utilization, less waste, more output, and improved profitability, thanks to the superior visibility afforded by manufacturing dashboards.
---
Understand the Story Behind Your Data
Wyn is a web-based BI and data analytics platform that provides greater insight into your data.
Wyn offers built-in tools for report and dashboard creation, data governance, security integration, embedded BI, automated document distribution, and a business-user friendly interface for self-service business intelligence.
Test drive on your own data with our free evaluation.
You can also request a personalized demo to address your individual BI needs.
Take Tour of Wyn Enterprise
Watch an in-depth demo of Wyn, learn about our user portals, and create a report in seconds.